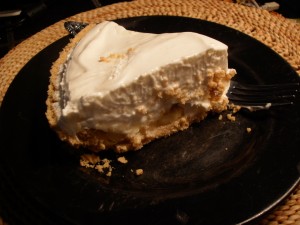 Pie that is. I loved this recipe when I saw it mostly because it calls for a graham cracker crust and you can buy those nicely pre-made at the grocery store. But look at what else is in it: sweetened condensed milk. Now be honest. Have you ever had anything that contained sweetened condensed milk that was bad. Just in case you don't know the answer, I'll help. It's no.
Additionally, the instructions say to chill for several hours and it doesn't need to be baked. Given these days with temperatures of over 100 degrees, I was totally sucked in to making this pie.
Bananas are hard to keep in this house.  We are a family of banana fans. But I grabbed 3 bananas, put them aside with strict orders that they not be touched. I'm so glad I did that. This awesome, creamy, SIMPLE  pie is Mmmmm FABU! I'm sure you will agree. 
Banana Breeze Pie
1 – graham cracker crust
3-4 medium firm, ripe bananas
1-8 oz package cream cheese
1-can sweetened condensed milk
1/4-cup real lemon juice
2 tbs banana liqueur
1-tsp vanilla extract
1 tablespoon lemon juice (to sprinkle over banana slices)
Soften cream cheese to room temperature.  Cream the cheese until fluffy.  Add sweetened condensed milk and gradually increase mixer speed to whip.  Whip for two minutes.  Stop mixer and add lemon juice.  Again, gradually increase speed of mixer to whip and whip another 2-3 minutes.  Add vanilla extract and mix well.
Cut bananas in a bowl and sprinkle with lemon juice to prevent from darkening.  Place bananas in pie crust reserving enough to place on top of the pie if you wish.  I just place them all in the pie crust.  Then dump the pie filling on top of the bananas.  Chill several hours.