A couple of months ago, I learned that there was a wine called Whitesnake Zinfandel. I checked it out and knew that I had to have some!
Back in the 80's, Whitesnake was my second favorite hair band. RATT, of course was the first. But I love love love Whitesnake's music and have seen them in concert many times.
I remember when we lived in Chicago. My car was broken into and the thief took the stereo, discarding the Whitesnake cassette on the floor. Horrors! Not that my car was broken into and my stereo was stolen. The thief had bad taste in music!
We can't order wine in Oklahoma and have it shipped in from out of state. After checking with two different liquor stores, I learned that they could not obtain this wine for me either.
I had a bright idea! I'm going to Chicago in July, I'll have it shipped there. My stepmom Tish, who also loves wine, has a birthday and I'll send her some and collect my bottle next month.
I ordered the wine on June 12. Tish's birthday is June 20 so I figured that would be more than enough time for her to receive it on time. Happy birthday!
On June 14, I received UPS notifcation that the wine had been shipped. To Oklahoma.
I called the winery and left a message and also emailed them to let them know they cannot send it here and I was really hoping Tish would have this wine for her birthday. I received an email back saying she was very sorry, order entry error on her part but she would ship it via 2 day delivery so it should arrive in Chicago by the June 17.
June 20 rolls around, I call Tish to ask her if she had received her birthday present and she said no. I emailed Nicole again and asked if I could have a UPS tracking number for the shipment that went to IL since I hadn't received one and Tish hadn't received the wine.
I got this this morning: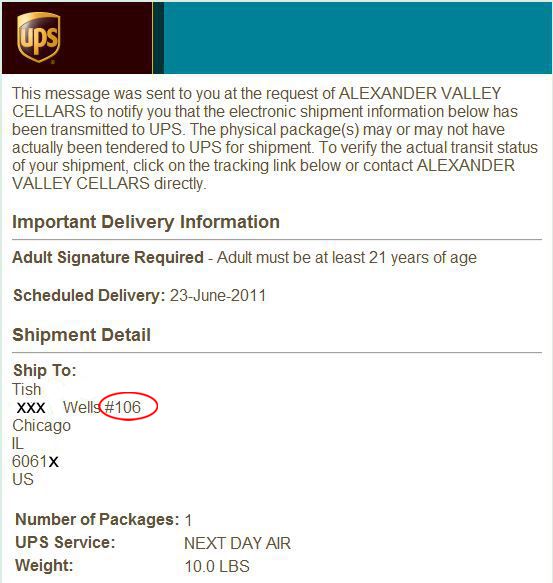 Not only did they not send it out when they said they would, they sent it to the wrong address. Tish does not live in #106. I'm not even sure there IS a #106 in the building. Fortunately, she is the building attorney and has lived there for almost 40 years so I feel confident she will get the wine.
Wow. What a lot of hoops to jump through just to try a bottle of wine. I am looking forward to trying it and I hope it's as good as Whitesnake's music!
*****Update 1:00 p.m. June 23*****
Just received an email from Nicole that she learned belatedly that the shipping department had run out of Whitesnake wine and she had to run a bottle down to them. I ordered and paid for three bottles. I do hope we will get the three bottles, one of which will be mine. I'm starting to lose hope. ::sigh::