Now that we know we get to stay in Tulsa, I started looking for volunteer opportunities since that's what I'm used to. While I was at Athletic Mission one night, looking at the facebook stream, I saw a request from Kendra asking for scorekeepers for the upcoming 16U Gold National that would be taking place in Broken Arrow.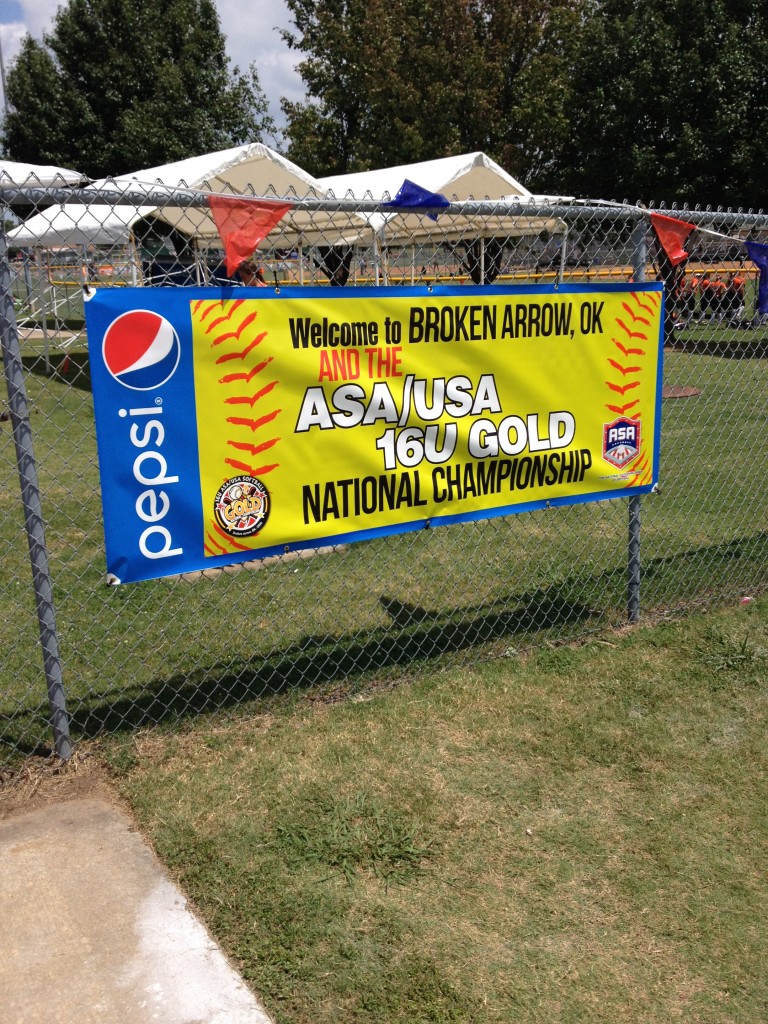 Well, I'm not really too familiar with softball but since I spent so many years at the baseball field and I'm pretty smart, I figured I could learn how to do the job. I was scheduled for two games each on Tuesday, Wednesday and Thursday.
I was really happy to learn that my first scoring partner, Bobby, had over 40 years experience in softball. I had some trouble with the app and I had to ask Codi and Kendra for help. They were awesome. Calm and friendly, they helped me figure out how to fix the problems in the Gamechanger app.
I was kind of stressed that first day, not wanting to make a mistake but I knew I could learn it.
On day two it was HOT. It was so hot. With an excessive heat warning, I was so thankful to the folks who brought me water. Well, I was thankful all three days for that! Still, it could have been worse! I had the first two games and we had great cover with usually a little bit of a breeze. Although, I will say, that my poor right elbow took the brunt of any sun I got. 😉
I worked with Kim the second day and she was great. Her daughter, who will be a senior, has been playing softball for many years and they've always played at Arrowhead Park as their home fields. So she kept the paper score sheets.
I didn't have to call Codi with as many problems and I even figured out how to substitute a courtesy runner all on my own. I felt really ready to conquer day three with hopes of not having to call Codi at all.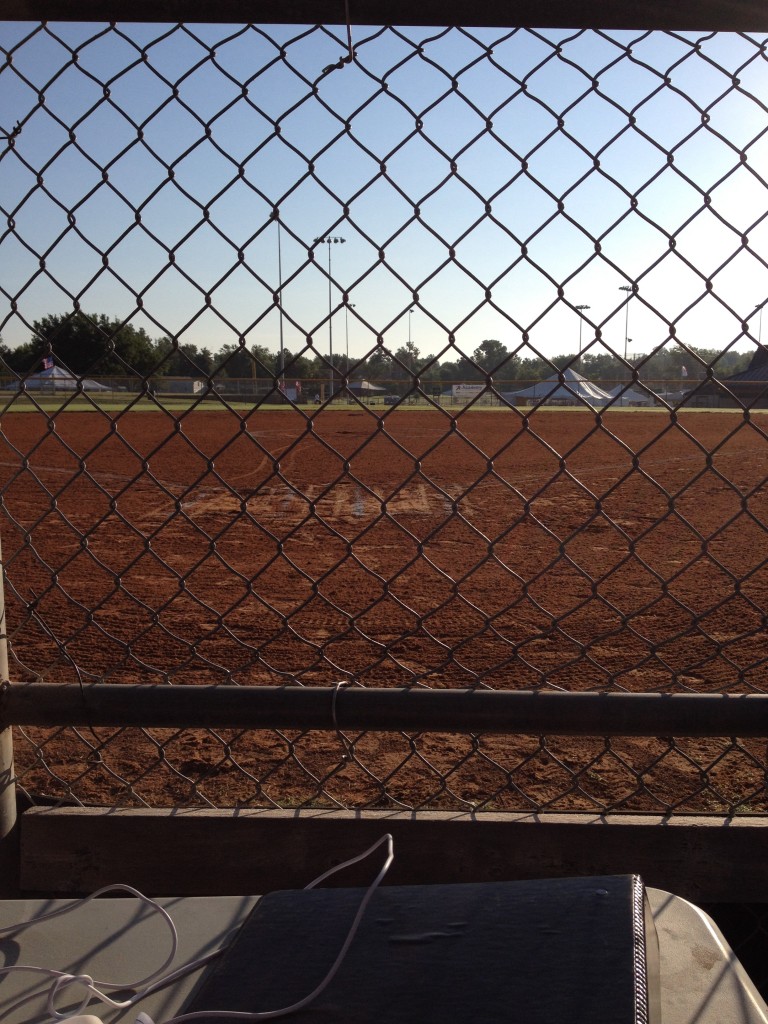 Day three was the beneficiary of a small, very small, cold front but it felt awesome compared to the day before.
At the beginning of the first game, the umpires threw a change at us with seconds to spare. Neither Julie, my scoring partner, nor I knew what he had said and it caused me problems and I had to call Codi. Boo. I was so hoping not to have to do that.
We got it all sorted out and continued on. At some point, Julie had some issue with the scoreboard and I looked up and realized I was missing two runs. The app is so cool and smart and I'm not sure what happened. In fact I never even looked at those numbers previously because the app makes it virtually unnecessary.
Another gal came by and deleted the game and reentered it so it would be right. I took that opportunity to go to the ladies room and when I came back, Julie's sister told me that gal who was fixing the game was going to stay with us in case I had any more problems and that was it. I was demoted.
I never touched the iPad with the Gamechanger app on it again.
I was given the microphone. I guess that's good, I do the microphone well. I announced each batter as she came up to bat.
Shortly after my demotion, I stumbled on one of the names and the umpire kidded me about it.
I said, "Everyone's a critic".
He said, "Now you know how I feel!"
Ha! 🙂
So that's my experience at the softball field.
I would like to thank Codi SO very much for helping me with my technical difficulties.
Thanks to Bobby, Kim and Julie for being fun to hang out with, helping me, and knowing softball and the paper score keeping so well!
Thanks to all the gals who brought me water and lunch.
Thanks to Kendra who gave me the opportunity to be a part of the volunteer experience at Broken Arrow Softball. I do sincerely apologize for all the confusion I caused.
Now, onward and upwards I guess my next volunteer gig should involve a microphone. 😉