I've been having a heck of a time getting warm today even though it's supposed to be a record breaking warm day. I decided to have soup for lunch and boy was it GOOD! 🙂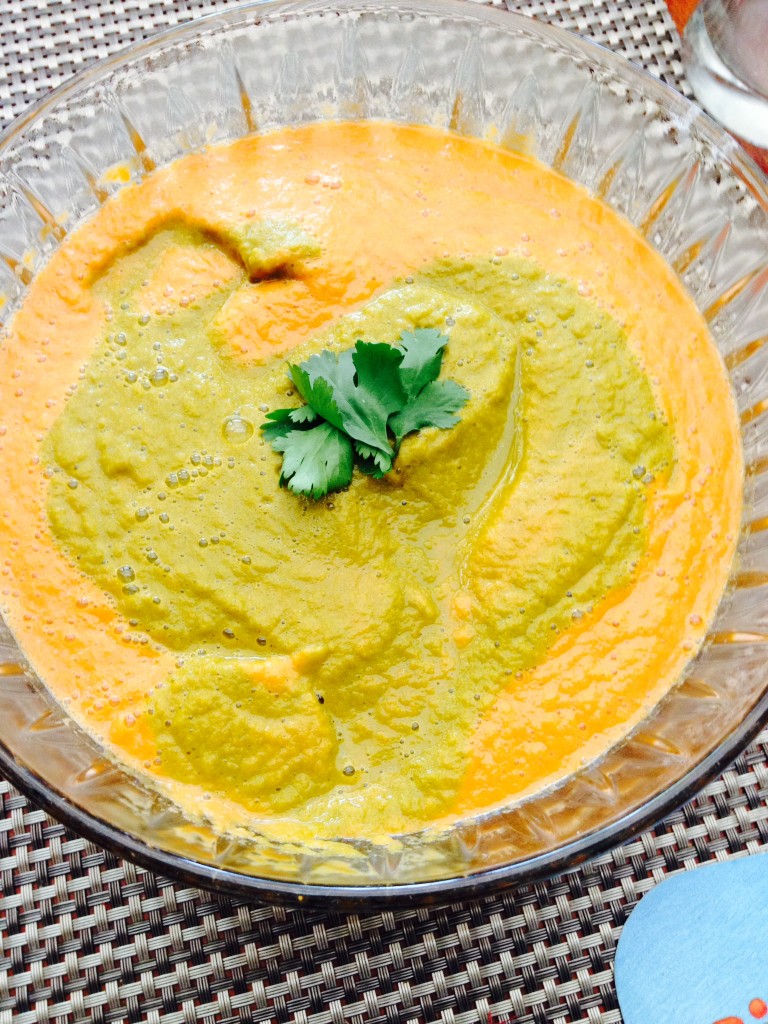 I bought some sweet potatoes the other day and wanted to use them but, like a lot of days, I sometimes feel sweeted out from all of the fruit I eat and most of the recipes season with cinnamon, nutmeg and ginger. I wanted something spicy!
I chopped up a large carrot and blended it with a cup of water. I then cut up two sweet potatoes and chunked them and tossed them in. The mixture was pretty thick so I added another cup of water. Then I found some little orange peppers that I forgot I had and tossed in a couple of those and some onion. I then added some of the home made taco seasoning that is always in the cupboard and cilantro. Oh how I love cilantro!
I blended it all in the Vitamix until it was warm. Then I poured about 2/3 of the soup into my bowl and added a big handful of spinach to the remaining soup in the blender and blended it. I tried to swirl the two colors of soup but I think I had too much green to make it pretty but, oh well, it was delicious and that's better than pretty, right?
Raw Sweet Potato, Carrot & Spinach Soup
2014-10-25 12:45:05
Serves 1
Delicious, spicy raw soup!
Ingredients
1 large carrot
2 cups water
2 sweet potatoes
2 mini orange peppers
1 cup spinach
chopped onion to taste
2 tsp home made taco seasoning*
cilantro to taste
Instructions
Place 2 cups of water in Vitamix and add carrot. Blend.
Add chopped sweet potato and peppers. Blend until smooth.
Add onion, taco seasoning and cilantro. Blend until warm.
Pour 2/3 of soup into bowl. Add spinach to the remaining soup and blend until smooth. Pour in the middle of first soup and swirl. Garnish with more cilantro and cracked black pepper. Yum!
Adapted from Raw Carrot and Sweet Potato Soup with Spinach
Rott-I-Tude http://www.rottitude.com/
*I use the taco seasoning recipe found
here
.