Okay, I'm trying really hard to keep up with these Real Housewives of Oklahoma (RHOK). I know it's not Monday and I'm not completely sure what a McLinky is but I can answer these questions better than I can do the slutty hokie pokie so here we go.
This is Everything You Need To Know or,  simply, TMI. (LOL!

)
TEN FACTS
Name – Lauri
Nicknames – Lauri, Pebbles (don't ask)
Any birth marks – Yes on the top of my right wrist. My mom thought it was dirt when I was small and tried to scrub it off with steel wool. And you wonder why I am this way.
Hair color – Blonder than I'd like
Natural hair color – About this color
Eye color – Blue most of the times, green others
Height – 5'11"
Mood - Happy
Favorite color – Green
One Place You Want to Visit – Istanbul
TEN THIS OR THAT
Love or lust – love
Cats or dogs – dogs
A few best friends or many regular friends – Best friends
Television or internet – Internet
Chinese or Indian food – Indian
Wild night out or romantic night in – Comfy night in
Money or Happiness – Happiness
Night or day -  Day
MSN or phone – MSN
TEN HAVE YOU'S
Ever performed in front of a large crowd – Not often enough
Ever done drugs – I do Advil Cold & Sinus when the wind changes
Ever consumed alcohol -Yes
Ever Been on a dance team – No
Ever been on a sports team – Yes, cheer, rugby, track, swim
Ever been in a drama play/production – Yes
Ever owned a BMW, Mercedes Benz, Escalade, Hummer or Bentley? – nope
Ever been in a rap video? – No, but I'm actually in a Metallica video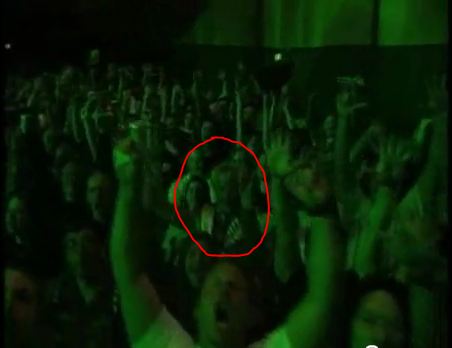 (See the whole video here. This is at 3:23 approximately.)
TEN LASTS
Last phone call you made – One of my local titleholders
Last person you hung out with – The Dudelette and Scarlette
Last person you tackled – Hmmmm
Last person you IM'd – Geoff
Last person(s) you went to the movies with – I don't usually go to the movies. It's been too long to remember.
Last thing you missed – Leo
Last thing you ate – Cottage cheese with walnuts. Nom!
WOULD YOU RATHER
Pierce your nose or tongue? – Neither. Did the naval and am over it.
Be serious or be funny? – Funny
Drink whole or skim milk? – Gah, blech, eeeuuww
Spend time with your parents or enemies? – parents but enemies are closer. LOL!
ARE YOU
Simple or complicated? – Confused
DO YOU PREFER
Flowers or candy? – Candy
Gray or black? – Black
Color or Black and white photos? – Color
Sunrise or sunset? – Sunrise
Staying up late or waking up early? – waking up early
DO YOU PREFER
Sun or moon? – Sun
Left or right? –  Left
Sun or rain? – Sun
Vanilla or chocolate ice cream? – Vanilla
Vodka or Jack Daniels? – Beefeater
Nervous Habits? – I'm not a nervous person, not sure I have one!
Are you double jointed? – No
Can you twist your tongue around and roll it? – yep
Can you raise one eyebrow? – yes, the right one.
Can you cross your eyes? – Yes
Do you make your bed daily? – No
QUESTIONS
Which shoe goes on first? – Left
Ever thrown something at someone? – Yes, we regularly throw dinner rolls around the table.
On average, how much money do you carry with you? – debit card only
What jewelry do you wear? – wedding ring always, everything else up for grabs
Do you twirl your spaghetti or cut it? – twirl
Have you ever eaten Spam? – yes when I was a child and had no choice
Favorite ice cream? –  coffee
How many kinds of cereal are in your cabinet? 0
What's your favorite beverage? coffee
Do you cook? love to cook
LASTS
Last Alcoholic Drink: Beefeater martini
Last Car ride: To Tulsa
Last Movie watched: The Bucket List
Now let me see if I can figure this McLinky thingy out…