Squash is an acquired taste. I have to believe this because I love it now. But I remember a time when I was maybe 6 or 7 years old when I thought it was the worst thing ever put on my plate.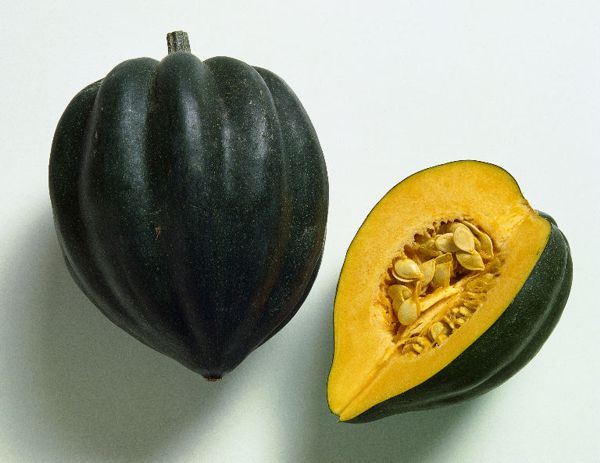 My dad took the whole family to dinner at the house of a business acquaintance.  They had kids that were about our age and I remember having a good time until we sat down for dinner and were served, you've got it, squash.
Having never eaten squash before, I took a hesitant bite of it and promptly turned into hell child. "I'm not going to eat this," firmly stated my dad's formerly perfect little business bauble. "No way". I may have stomped my foot. They were embarrassed. They told me that if I didn't eat my squash I could not have the ice cream and chocolate cake that was on the menu for dessert.
There was no way I was going to prostitute myself for a piece of cake and ice cream by eating that squash. And I didn't.
Clearly it traumatized me because I remember it like it happened yesterday. Every time I prepare to eat squash.

But now, I LOVE squash.  Not only is it a great source of all kinds of good nutrition but there are so many delicious ways to prepare it.
Cruising around the internet the other day, I found this recipe for Roasted Acorn Squash. I found the acorn squash on sale for 99 cents at Aldi and so I got one and made this for lunch today. I don't have a whole lot of spices since my kitchen is packed up and I just seasoned it with ground salt and pepper. But it was delicious! A very good vehicle for pepper.
Chilly day, toasty warm squash. NOM!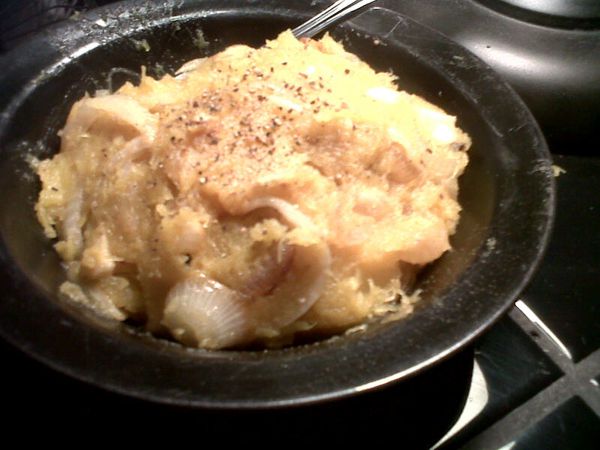 Roasted Acorn Squash Recipe
Serves 4, as a side
Ingredients
• 2 acorn/pepper squash;
• 3 tbsp clarified butter, tallow or coconut oil;
• 2 onions, thinly sliced;
• 3 cloves garlic, minced;
• 1 tsp ground coriander seed;
• ½ tsp nutmeg;
• Sea salt and freshly ground black pepper to taste;
Preparation
1. Preheat your oven to 375 F.
2. Cut each squash in half, but leave the seeds in. Place cut end up on a baking sheet and roast them for about 50 minutes to an hour, long enough so that the flesh is fork tender. Remove once cooked and let cool for several minutes.
3. Meanwhile, in a medium skillet over a medium heat, saute the onions in the cooking fat. Cook for close to 10 minutes, until the onions are translucent and begin to be golden brown.
4. Add the garlic to the skillet, followed by the coriander, nutmeg, salt and pepper. Continue to cook for about 2 minutes.
5. Remove the seeds from the squash and discard. Spoon out the tender flesh and discard the skin. Roughly mash up the squash and add it to the skillet. Mix well. Only leave on heat long enough to blend flavors.