Yesterday afternoon, I was looking through my twitter feed when I saw my friend @jennipps tweet about a 30 Day Video Challenge she was participating in.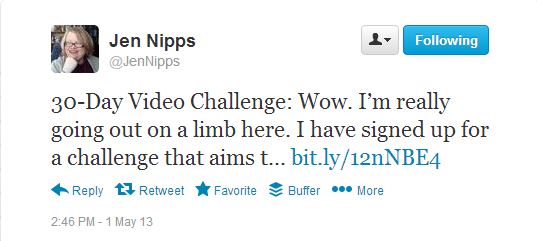 I clicked in and thought, "I want to try that, too!"
I love video but, for some reason, I never think to do it first. It's more something that I remember belatedly. With the minor except of Vine and I still don't go to that first as would be so much fun.
I posted that I was in, thinking I would have to be a day short as it was already May 1st. And then I realized there was no reason why I couldn't do a video yesterday even though it was a more "unplugged" version of me than what I usually do.
So my goal for the challenge is to make video be more of a first thought than one somewhere down the road.
Here's my first video. I'd like to clarify that I'm trying to change my Trophy Wife status by getting a new job and not getting rid of my fabu husband. 🙂