I tried really hard but didn't quite read 80 books this year. Still, at the Goodreads challenge, I had only challenged myself to read 50 books so it was a good reading year. Since I'm of the opinion that life is too short to read bad books, most of the books I read this year were really great. I did read two that I didn't care too much for. Why I completed them, I'm not sure. It's not how I usually do things. The second half of one of them made up for the first half so it wasn't a complete waste of time. Anyway, I've challenged myself to read 82 books for 2018 and I'm currently in the middle of two really good ones. But let's get to the ones I loved last year.
10. The Seven Husbands of Evelyn Hugo – Taylor Jenkins Reid
l didn't plan to read this book. I didn't even know about it when I saw it on the front shelf at the library. What drew me? The green cover, green evening gown. I loved this book, though! The story is about an old world Hollywood icon who has decided, at the age of 79, to tell her life story and reveal the love of her life.
She contacts a relatively junior journalist and tells her if she will help her tell her story, she can publish the book upon her death and keep the proceeds. A highly unusual opportunity because Monique, the journalist, couldn't understand why she would choose her for this role.
The story is entertaining with unexpected twists and turns. I promise you won't be able to put it down!
9. The Tumbling Turner Sisters – Juliette Fay
This is a historical novel that takes place in the days of Vaudeville. After their dad loses his job, the mom decides that the four Turner sisters should form a tumbling act and take it on the road. The book is full of great characters and a good storyline as the sisters go from town to town to perform their act. It's another of those books you don't want to end.
8. We Were The Lucky Ones – Georgia Hunter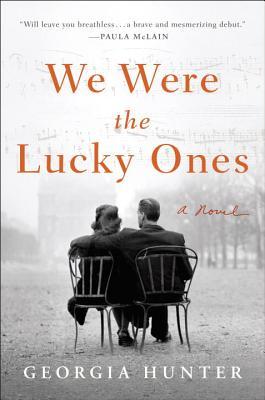 Oh, such an awesome book. It's no secret that I love to read books about Holocaust survivors. The strength of the people involved is miraculous and they are heroes in my eyes. This book involves a Polish family with four adult children. Based on a real family, their story is incredible. They were flung far and wide during the war but, in the end, they all survived. Truly amazing!
7. Rules of Civility – Amor Towles
I'm always looking for book recommendations and this one came to me from the Expat Book Club on Instagram. I'm not quite sure how I found them but I'm glad I read this book! So good. The prologue takes place in 1966 at a photo exhibit where Katey recognizes Tinker, a man she met 20 years previous. The book is her story with that man. Such delicious writing made me feel like I was in the moment with the characters. Wonderful book!
6. Class Mom – Laurie Gelman
Oh, how I laughed! This book is about a year in the life of a kindergarten mom. The difference is, Jen is an older mom. Her two older kids are in college and her son is just starting school. You all know "those" parents, right? Well, Jen is NOT having it. She takes over as class mom and the results are absolutely hilarious. You will laugh out loud!
5. The Windfall – Diksha Basu
The Jha's are moving up in the world after Mr. Jha sells his website for big money. He's decided that they need to move from the neighborhood they've always lived in to a better one with wealthier neighbors. As they move, he feels the need to compete with the neighbor regarding which one is wealthier, Meanwhile, Mrs. Jha is having a hard time in her new life. She misses her old neighborhood and friends. Their son, Rupack, is in America studying and trying to figure out his life. He's in love with an American girl but feels his parents won't accept her. He gets tossed out of school and comes back to India to live. This is a cute story that's fun to read.
4. Rich People Problems – Kevin Kwan
This is the third in Kevin Kwan's Crazy Rich Asians trilogy and I have loved them all. I was excited to read this book and get lost in this zany world again. In this installment, the matriarch Su Yi, is on her deathbed. The family flies in from all over the world to take care of her but really all they are thinking about is how they will spend her money when they are named the heir.
3. When Dimple Met Rishi- Sandhya Menon
I read a fair amount of YA and this was my favorite for the year. Dimple is going off to college as is Rishi. They are Indian teens and their parents have arranged for them to be married. Rishi's parents tell him (the obedient eldest son) and he sets out to meet the girl who will, one day become his wife. Dimple's parents don't tell her as she is a bit of a rebel. When she finds out what Rishi plans and her parents have done, she tries not to like him. Rishi then tries not to like her, either, but they are drawn to each other. Loved it!
2. When We Were Worthy – Marybeth Mayhew Whalen
In July, this was my favorite book of the year. Taking place in a small town where football rules, the story outlines the lives of four women after the death of three high school cheerleaders. One of the girls feels she should have been in the car with them except she was doing something terrible at the time. One is the mom of the boy who was driving the car that hit the girls. One is the mom of one of the girls. One is a high school substitute teacher who is targeted by the football players and loses her family because of it. This is such a good book I didn't want to go to sleep until I had finished it.
And, finally. Drumroll, please…
My favorite book of the year was the last book I read in the year!
1. The Alice Network – Kate Quinn
This story takes place after World War II when Charlie is trying to find out what happened to her cousin, Rose. She is given a slip of paper with a woman's name and address in London. Eve is a grizzled ex-spy and meets Charlie at the door drunk and with a Luger. I couldn't figure out how the paths of these two very different women would ever converge but they do. The two form an unlikely duo and create a seriously readable story you will not want to end.
So there they are! Ten really excellent stories that are more than worth your reading time. If you want to know everything else I've read, feel free to visit my Goodreads page.
What was your favorite book from 2017? I'm always looking for suggestions and I get them in the strangest places, sometimes. For instance, I have a reading list given to one of the characters in Kevin Kwan's first book, Crazy Rich Asians. Even though they were given to a fictional character in novel, the books are real and the ones I've read were really good!